~Academic Excellence~Faith Development~Community~ PS2.9-Grade 6!
Uniforms
Dear Saint John School Families,
The following pages outline warm weather, cold weather, gym, and Liturgy requirements for the 2019-20 school year.
Our uniform requirements are:
● Preschool and Prekindergarten students wear age-appropriate uniforms.
● All students wear warm weather PE uniforms (navy mesh shorts and grey T-shirts).
● All PE uniform components have smaller, heat-transferred "SJS" logos (white on navy and navy on grey).
● Polos and sweaters are embroidered with the "SJS" logo, (white on navy and navy on white).
Our Preferred School Number is 900060476. From time to time, Lands' End has sales on uniforms and logos so be sure to check out the website during the summer and throughout the school year for savings.
Please contact me anytime with questions.
Sincerely,
Michael Dibbert Head of School/Principal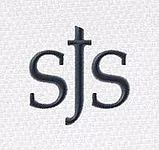 SJS Belt Available Only @ Spirit Store
Preferred School # for Lands' End is 9000-6047-6
Our School Logo # for Lands' End is 1562472K