~Academic Excellence~Faith Development~Community~ Apply Today!
Uniforms
Dear Saint John School Families,
After many conversations with parents, faculty, and representatives at Lands' End, I am pleased to share uniform expectations for the 2018-2019 school year. The following pages outline warm weather, cold weather, gym, and Liturgy requirements.
Changes to the uniform include:
● Preschool and Prekindergarten students will wear age-appropriate uniforms.
● All students will wear warm weather PE uniforms (navy mesh shorts and grey T-shirts).
● All PE uniform components will have smaller, heat-transferred "SJS" logos (white on navy and navy on grey).
● Polos and sweaters will be embroidered with the new "SJS" logo, (white on navy and navy on white), rather the larger seal. We replaced the larger embroidered seal (see above) with a new "SJS" logo (see below) in order to simplify our branding and make the tops more comfortable for students. We will continue using the seal, which recognizes our important connection with the Sisters of Notre Dame de Namur, on our letterhead, mission statements, and other signage.
Please know that 2017-2018 uniforms will still be allowed through the 2018-19 school year as long as they remain in good condition and fit properly. However, only the new options will available through Lands' End beginning tomorrow, Saturday, May 12, 2018 (Preferred School Number 900060476).
Thank you to everyone who offered feedback throughout this process. Please contact me anytime with questions.
Sincerely,
Michael Dibbert Head of School/Principal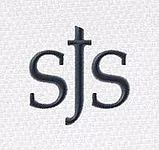 SJS Belt Available Only @ Spirit Store
Preferred School # for Lands' End is 9000-6047-6
Our School Logo # for Lands' End is 1562472K