KEY FEATURES
Early education plays a critical role in children's lives. The learning gain from Early Childhood to Middle School is significant, as students acquire new skills and knowledge rapidly during these formative years. One of the most important decisions parents make for their children is where to educate them. The right school will not only teaches children core subjects like Math, Science or English -- it also instills values of teamwork, personal responsibility, compassion and more. At SJS our students come from varying background, learning styles and levels of academic readiness. Our teachers strive to create cooperative inclusive and motivational learning environments, providing each student with an education that promotes the development of the whole child.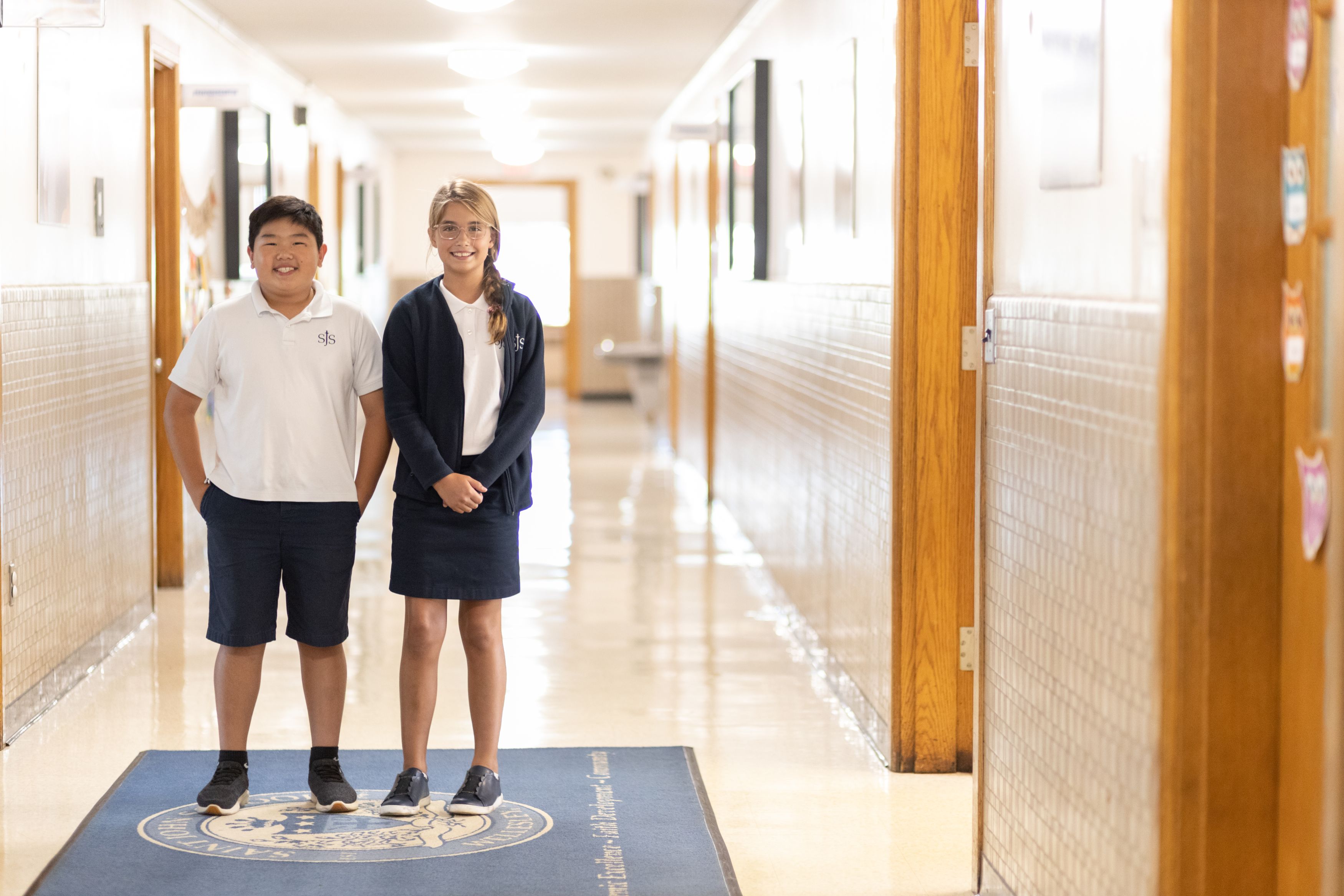 SHARED VALUES
Here at SJS you will see and hear these pillers of our mission repeated throughout; Academic Excellence, Faith Development and Community. This is the heart of everything we do at Saint John School. Our rigorous academics, faith formation and leadership opportunities set the framework by which our students develop responsibility and become instruments of God's grace in their families, our SJS community and the greater world. We celebrate, support and nurture our students achievements as they become accomplished, confident and empathetic young adults.
IDEAL CLASSROOM SIZE
Research shows that small classroom size is critical in the social and emotional development of adolescents. Furthermore, in smaller classes, students perform better in all subjects, at all levels. It is important that we know our students strengths, growth areas and interests. For this reason, we provide a high ratio of teachers to students to form a close-knit and supportive community where every student and teacher knows one another.
A LOVE FOR LEARNING
We strive to ensure that all of our students have a natural curiosity, strong passion and joy for learning.We teach the whole child; supporting their social, emotional, physical, spiritual, intellectual, and moral growth. Our teachers take time to know each student, their goals and observe when students need help or need to be pushed more. Our supportive community fosters a love for learning that will serve our students while at SJS and beyond.
EXPLORING & TAKING RISKS
At SJS our students are always encouraged to try new things. Our programs and opportunities are designed to allow students to expand their world through experiences in and out of the classroom. Students are comfortable knowing they can be who they are, surrounded by accepting and like-minded peers. Our strong academics and expansive extracurriculars allow our students to grow and succeed in all they do.